Our Fire Warden/Evacuation Training is targeted towards the members of your workplace Emergency Control Organisation (Warden Team) and is delivered in compliance with Australian Standard AS 3745 and site specific Emergency Response Procedures. The training has a strong focus on life safety and evacuating people in emergency situations. The training covers the following topics:
Legislative Requirements and Australian Standard AS 3745
Emergency Control Organisation Structure (ECO)
ECO Duties and Responsibilities
Emergency Types and their Impact
Raising the Alarm
Fire Alarm systems (if installed)
Managing Mobility Impaired Occupants
Assembly Area/s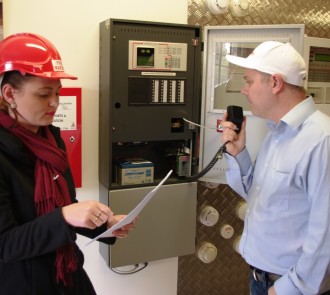 The training can be delivered at your premises or at our custom designed training facility in Malaga for a maximum of fifteen (15) trainees per group. The non-accredited course is theory based and the duration is 2.0 hours. For further information please contact us.
PUAWER005B Operate as part of an Emergency Control Organisation (ECO)
Course Outline:
Our nationally accredited Fire Warden Training program will equip your personnel with the skills required to safely evacuate your workplace. Regular evacuation training will ensure that your personnel are ready to deal with any workplace emergency.
Emergencies covered include Fires, Bomb threats, Chemical Incidents and many more. Our Fire and Safety Trainers can also be booked to act as observers / instructors during your Building Evacuation drills. We will prepare a written report after your drill has finished highlighting suggested areas of improvement. We can also assist you with emergency procedures and maps for your workplace.
Course Subjects:
Training Requirements
Investigating the fire / alarm / incident
Raising the alarm
Emergencies that may require evacuation
Firefighting Safety Procedures
Bomb Threat Procedures
Building Fire Safety
Fire Warden Identification
Fire Wardens procedures & responsibilities
Building Fire Alarms & Communications Systems
Developing Evacuation plans & procedures
Emergency Co-ordination
Human Behaviour in emergencies
Post-Evacuation Activities
Students will gain hands-on experience as our instructors conduct building evacuation drills. Practical Drills will be conducted using your evacuation procedures.
Duration for the accredited warden training is approximately 4 hours and can be delivered at your premises or at our custom designed training facility in Malaga for a maximum of ten (10) trainees per group.
PUAWER006B – Lead an Emergency Control Organisation
Pre-Requisite:
PUAWER005B
Operate as part of an Emergency Control Organisation (Fire Warden Course)
Course Outline:
Our nationally recognised Chief Fire Warden training course is designed for persons who are required to perform the role of Chief or Deputy Chief Fire Warden at your workplace. Participants will develop skills to ascertain the extent of onsite workplace emergencies and supervise evacuation of the workplace. Particular attention will be placed on meeting the requirements of Australian Standard 3745–2010: Planning for emergencies in facilities and how it applies to all workplaces.
Participants will have an understanding of emergency procedures and will undergo extensive practical drills on controlling workplace emergencies. This Course can be tailored to suit your workplace specific requirements.
Course Subjects:
Australian Standard 3745–2010
Emergency Planning Committee
Emergency Control Organisation
Fire Warden Identification & Structure
Emergencies where evacuation may be required
Methods of raising the alarm
Safety Procedures at Fires
Bomb Threat Procedures
Persons with Disabilities
Duties & Responsibilities of Chief Fire Wardens
Command & Control
Briefing the Emergency Services
Post-Evacuation Management
Emergency Procedures
Human Behaviour
Practical Scenario's will be completed which will utilise your workplace and the emergency evacuation equipment that you have onsite.
Duration:
2 hours. If the pre-requisite of Warden training has not been completed within 12 months we are able to offer the combined Warden and Chief Warden training with a duration of aproximately 6 hours.
Contact Us
If you wish to know more about Fire Warden Training, please fill in the following form and one of our team will endeavour to reply in the next 48 hours.
Alternatively, call any one of our offices listed below to talk to someone today!