The purpose of preventative maintenance to essential safety equipment is to ensure that it continues to operate at the same level of performance that existed at the time of commissioning and issue of occupancy approval.
Protector Fire Services', Service and Maintenance Division qualifies under the Australian Standards Code to install, inspect, maintain, pressure test and recharge portable fire fighting equipment. This service covers all brands and types of fire extinguishers, fire hose reels, fire blankets and hydrants.
Each of our branches feature fully amerex equipped workshops with high levels of stock and parts.
INSTALLATION AND MAINTENANCE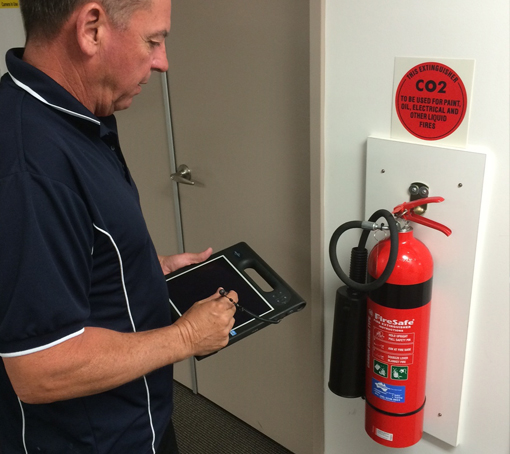 As a vital piece of safety equipment, fire extinguishers must be installed in accordance with Australian Standard AS 2444 and maintained on a six monthly basis in accordance with Australian Standard AS 1851. This equipment is generally used as a first attack measure to ensure that fire does not spread in the early stages and cause significant damage. It is very important that this equipment be serviced correctly. Protector Fire Services services all brands of fire extinguisher including Firesafe, Eversafe, Wormald, Flamestop, BFI, Chubb & Firex. We adhere to and exceed all servicing standards and protocols providing peace of mind, customer satisfaction and value for money. One client recently credited us with being A1 in Fire and Risk services.
ONGOING ROUTINE MAINTENANCE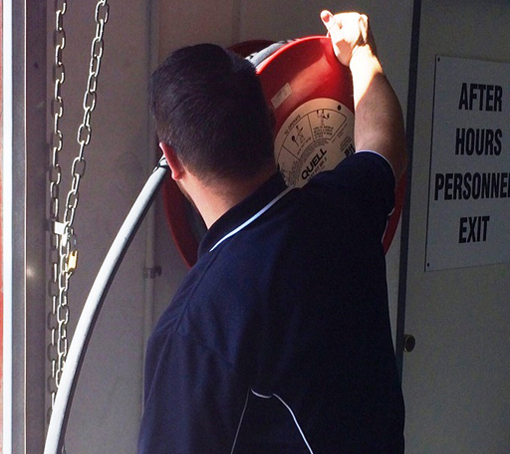 Australian Standard AS1851 Provides a table of maintenance schedules for each type of fire extinguisher, hose reel and fire blanket. Each table is divided into service periods of 6 monthly, yearly, (3 yearly in aggressive environments) 5 yearly and after use.
Each service period indicates the progressive sophistication of the operation to be carried out at that particular due date. Eg 6 monthly – external inspection and 5 yearly – discharge, internal inspection, pressure test, dry cylinder & refill with new extinguishant. Australian standards clearly identifies all the necessary operations that must be done in order to keep this vital equipment in its best operating condition.
WHY WE ARE THE BEST IN THE BUSINESS
Being dedicated to ensuring your business/property/lives are being properly protected means caring about the job at hand.   Protector Fire Services technicians undergo rigorous in-house training to ensure client expectations are not only met, but exceeded. All requirements of Australian Standards AS 1851 and AS 2444 are strictly adhered to with client interaction being key to this process.   Our technicians are sensitive to your work environment & requirements. We will always endeavor to be as unobtrusive as possible, to ensure as little disruption to your productivity as physically possible.
Contact Us
To learn more about our portable fire equipment maintenance and servicing division or to obtain a quote for installation and/or ongoing service & maintenance please fill in the following form and a member of our team will endeavour to reply in the next 48hours.
Alternatively, call any one of our offices listed below to talk to someone today!