Our Fire Extinguisher Training is targeted towards all staff with a strong focus on safely suppressing a fire using portable fire equipment including fire extinguishers, hose reels and fire blankets. Studies have shown that an inexperienced fire fighter operates at 40% effectiveness. Training, with familiarisation and practical handling of equipment, lifts the level of competence and effectiveness.
Training covers the following topics:
Fire Science
Classes of Fire
Extinguishing Agents/Types
Safe use of Fire Extinguishers and Fire Blankets
Safe use of Fire Hose Reels
Practical Hands on training for each trainee on real fires
Extinguisher Training
Non-accredited fire training, tailored to your specific workplace, can be delivered at your premises or at our custom designed training facility in Malaga for a maximum of fifteen (15) trainees per group. To ensure the best possible learning outcomes for trainees a mixture of theory and practical training delivery is utilised over the 1.5 hour period of training. For further information please contact us.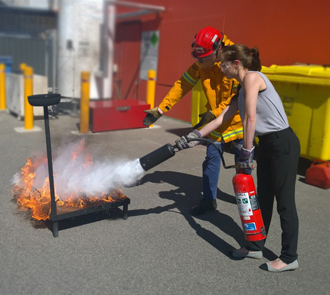 Contact Us
If your trying to find a fire solution in Fire Extinguisher training, please fill in the following form and one of our team will endeavour to reply in the next 48hours.
Alternatively, call any one of our offices listed below to talk to someone today!